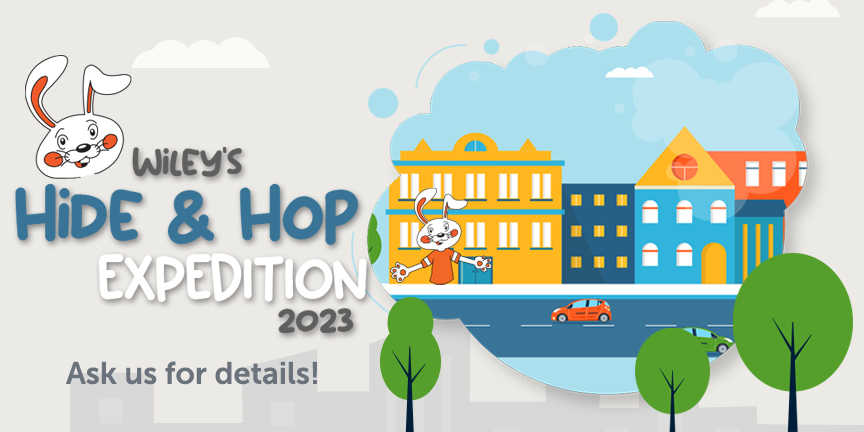 Wiley's Hide & Hop Expedition
Starting Monday, June 5th in Ottawa, Wiley Wabbit will be appearing in storefronts around the community. It will last the entire month of June. Each week will be a different business. Some business hours may vary, so please check before searching! You have one week until Wiley shows up in a new window.
HOW DOES IT WORK?
Visit all four official locations, collect a stamp on your passport at each, finish the map and head to Financial Plus to receive a FREE special surprise, while supplies last. Passbook must be completed in order to collect your surprise.
WHERE TO FIND CLUES:
One clue will be posted weekly on social media and on the Wiley Wabbit Club page of our website to help you find Wiley at each location. Remember, beginning of the new week, it will be a different business.
You can collect your passbook in our lobby or print here.
Skip-A-Pay is now available on our mobile app and in online banking.
2 skips per calendar year
$30 per loan

---
A debit card that puts you in control 24/7
Accessibility, Security, and Support
Introducing New Features:
Accessibility
Card Controls On/Off control, instant pending transaction notifications and much more
AllPoint ATM Network 55,000 worldwide Surcharge-Free ATMS
Security
Enhanced Security Get text alerts from our live fraud monitoring system
Support
24 Hour Live card support
No $1 fee for choosing "debit" when you use your card
Take advantage of these great new features today!

---
Holiday Closings
| Day | Holiday |
| --- | --- |
| Monday, June 19 | Juneteenth |
| Tuesday, July 4 | Independence Day |
| Monday, September 4 | Labor Day |
| Monday, October 9 | Columbus Day |
| Saturday, November 11 | Veteran's Day |
| Thursday, November 23 | Thanksgiving |
| Monday, December 25 | Christmas Day |
| Monday, January 1, 2024 | New Year's Day |